Reckon Products
Effective Software solutions. Comprehensive training.
Reckon Accounts Software
Reckon Accounts Software offers both online and desktop solutions, incorporating advanced functionality with the ability to access your company file anywhere, anytime online when using the hosted version. Features of Reckon Accounts Software include:
Multi-User Capability (Up to 200 Users)
Advanced Security
Work Online or Offline*
Save Data Locally or Remotely
Track & Manage Inventory
Invoice, Pay Bills & Track Expenses
Full functioning Business Planner and budgeting
Enter Company Accounts Consolidation
*Reckon Accounts Enterprise Desktop Version must be installed locally to work with Reckon Accounts Hosted when not connected to the internet.
---
Reckon One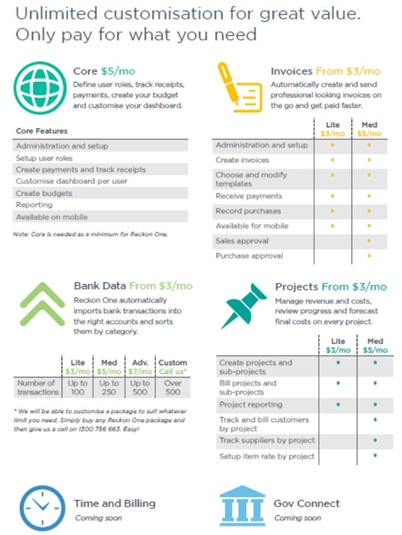 ---
Reckon Elite & Docs
Reckon Elite
The complete tax, compliance and practice management solution - whether you are a sole practitioner or a growing practice.
With a reputation for power and simplicity, Elite is designed around the accountant's needs and delivers extraordinary levels of control, customisation and all-round performance. It is an indispensable business partner to more than 4,300 users.
Each Pack is a combination of various modules. We have three packs available:
TAX PACK

TAX PACK PLUS

ACCOUNTANTS PLUS

Practice Management
Practice Management
Practice Management
Tax
Tax
Tax
Ledger
Ledger
TimeCost & Timesheets
TimeCost & Timesheets
AdvanceDocs
Rental Professional
Tony is an Elite Specialist and for further details see the link below.
http://www.reckon-elite.com.au/ReckonElite/Supportlearning/Elitespecialists.aspx
---
Reckon Docs
Software and Products provided by Reckon Docs include:
Company Formations and related products
Company Searches
Trusts, Deeds and Wills
SMSF Deeds, Pension documents and related products
SMSF Administration
Company Secretarial Services
Various legal agreements
Free over-the-phone general legal advice
Free Reckon software with orders of companies, trusts and SMSFs
Client support through a dedicated Help Desk
---
Software Sales, Installation, Training & Ongoing Support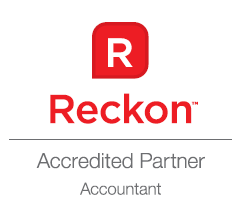 Including Reckon Accounts Plus, Pro, Premier & Enterprise, Reckon Elite, Reckon Assets, Reckon time cost and Time sheets, Reckon Rental, Desktop Super.
Our Intensive Reckon Accounts training has been specially designed to help you understand the scope of the program and develop your skills and those of your staff in its day-to-day use. Our training is packed with excellent Accounting and business ideas which you and your staff will find instantly applicable. We can provide training online, at your office or at our Bathurst Training Room. We can also supply Training Manuals for future reference. Reckon Elite (APS) Professional accounting Software product range. If you are interested in further information regarding Reckon Products please contact us.